Welcome to American Wushu Academy, where we're offering Mesa access to high-level martial arts training for all abilities. We are proud to bring you a wide range of classes, each focusing on specific aspects of your health and wellness. Our classes are family friendly, everyone welcome, ages 4—94! We offer a free introductory class. Click each link to learn more!
Kids Martial Arts: Helping students of all ages stay active and build confidence with the help of Chinese Wushu teachings.
Group Fitness: This circuit-based system can keep your heart racing and produce incredible results. Great for all experience levels.
Self-Defense: Built around the art of Wing Chun, this program can help you stay safe in any situation and defend your loved ones from any threat.
Tai Chi: Take on inner peace and mental calm with comprehensive Tai Chi training. This low-impact system is great for all abilities.
After School: Our After School program supports students all across Mesa with exciting activities and supervised fun!
Adult Martial Arts: Take on Traditional Wushu training for men and women of all abilities. This class can help you stay active and build strength.
Learn More About Everything We Have To Offer At American Wushu Academy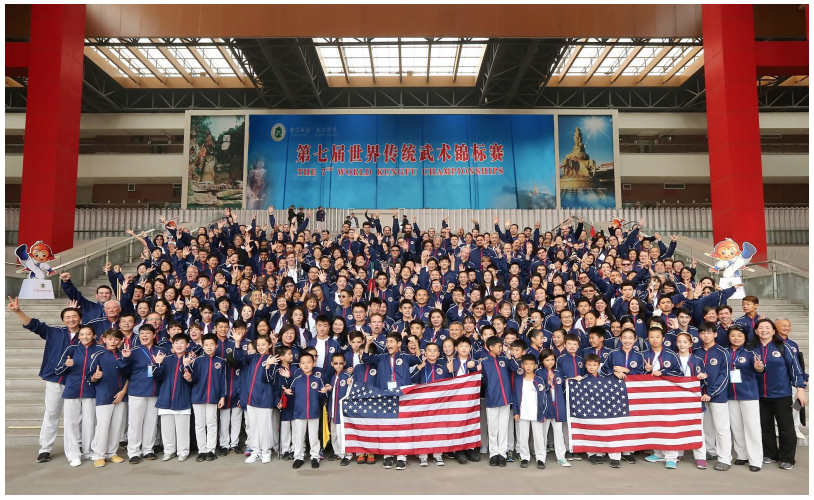 USA Traditional Wushu Team at the 7th World Kung Fu Championship, Emeishan, China 2017

The term "Wude" is a combination of the Chinese words Wushu and Daode. Wushu refers to Chinese martial arts and is the father of all martial arts styles. Daode may be translated with virtue. Wude therefore signifies the virtues of martial arts.
THE POEM OF WUDE
A Wushu warrior should have a LOFTY AIM and a PURE MOTIVE
A warrior should be OBEDIENT, LOYAL, HONEST, BRAVE, and COURAGEOUS
Defy brute force, DEFEND family, principles, righteousness and honor. Use common sense over defense.
Adapt a POSITIVE attitude toward people, stay HUMBLE, PRACTICE, courtesy and always keep one's word
In studying Wushu, COMMITMENT should be made, and a perfectionist attitude adopted.
These virtues with good CORRECT training gives a warrior the optimism advantage in every aspect of life.
Areas We Serve:
Mesa
Queen Creek
Gilbert
Apache Junction
Chandler
San Tan
Superior